Create Eye-Pleasing and Professional-Looking Video Presentations or GiFs with The Help of This Feature-Packed and User-Friendly Utility

Sponsored Links:
Finding a good video maker or animation presentation designer software that's both capable of creating professional content while remaining accessible both in terms of pricing and functionality for the everyday user is not the easiest of tasks.
If you're in the market for a competent video/animation/presentation maker that can be used without substantial design experience, then you might be interested in checking out Animiz Animation Maker, as it may just fit the bill.
Describing a comprehensive app such as this may lead to an avalanche of feature descriptions which, of course, are quite important, however, it's worth pointing out right off the bat that this app is useful to novices and professionals alike (to some extent for the later, evidently) who are looking for a simple way of creating small-budget animated explainer and training videos, as well as product advertising animations.
Powerful animation creator with enough built-in documentation material to match its impressive feature set
It might seem like a handful at first, especially if it's the first time you're using an app of this sort. In fact, it's quite user-friendly and, rest assured, you can quickly learn what's what thanks to a plethora of useful video tutorials and documentation material neatly included in the app.
The feature department is definitely one of the app's strong points as it bundles an impressive toolkit. There are a ton of cool animations and camera effects, and hundreds of shapes, backgrounds, transition effects, roles, and SVG images.
You can also add subtitles using all sorts of font and shadow effects, mathematical formulas, recordings of your own (and voiceovers), custom backgrounds, and ambient music, all while thoroughly manage them and the scenes with simple drag and drop gestures.
It shouldn't take too long until you discover the app's intuitive multi-track timeline that allows you to synchronize your animations with the backgrounds, captions, audio content and other effects. Another highlight stems from the app's notable collection of built-in scene templates, animated rolls, royalty free vector images and other dynamic animation effects (which are even greater in number if you opt for the paid versions, mind you).
Lastly, we've arrived at the app's publishing capabilities which are, by all accounts, quite satisfactory. You can export/publish your projects to GIF format or create videos in various definitions (576p, 720p, and 1080p) and to some of the most popular formats out there (MP4, WMV, AVI, MKV, and FLV, just to name a few). In addition, the app also allows you to publish your animations to YouTube, Facebook, Twitter without having to leave its main window.
Probably the most widely accessible, full-featured animation creator out there
All things considered, by now it should be quite clear that this is definitely one of the top ranking app in this particular category. It's probably not the most feature-packed app of this sort, however, as a package it has a far broader appeal than most other, more professional, apps out there.
It's well-equipped, it bundles enough documentation and video tutorials to overcome whatever shortcoming you may consider it has in terms of user accessibility, and it provides its users with a lot of options for publishing their content.
It's available in four tiers (Free, Standard, Professional, and Enterprise) and, as expected, in Free spec, there are some noteworthy limitations. However, if you don't mind the decently-sized watermark that it places in one of your video's corners, it's arguably still very usable.
Additional Features :
Add permissions to the foreground.
Optimize the display of the foreground name.
Modify upload to the cloud.
Get started from Pre-made templates
Simply apply the ready-made templtes to create high-quality animated videos. There are tons of preset scenes available for making animated video presentations for business, education, management and more.
Abundant free resources
Animiz includes libraries with thousands of pre-designed assets like characters, icons, svg images, and shapes for animation designers. Make your video presentation with interactive effect and unique design that will engage audiences.
Distribute to everywhere
You are allowed to upload animated videos to Animiz cloud for free. Moreover, you can upload videos to YouTube and share them to social channels(Facebook, twitter, etc) right away. Everyone can access your video presentations on different mobile devices seamlessly anywhere anytime.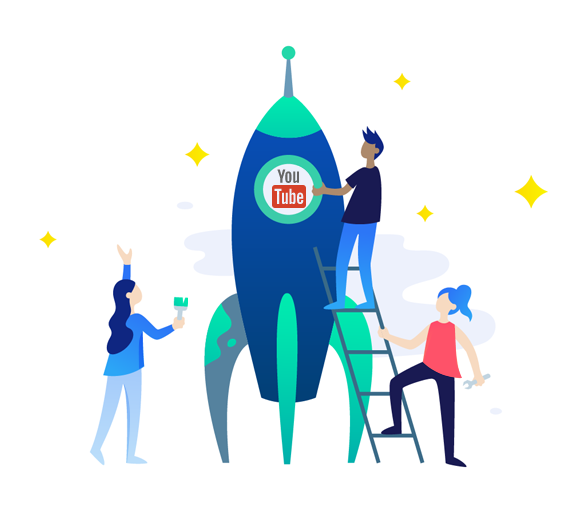 We at AppsForMyPC have tested and used Animiz Animation Maker and it worked pretty smoothly 🙂 🙂